Getting the Digital Strategy Straight
April 5, 2011 - 3 minutes read
Quotable quote:
"A strategy delineates a territory where a company seeks to be unique." Michael Porter
It is getting ever more competitive to compete on a digital front, as smarter marketers get more digital savvy. Only the category leader websites make a difference in a cluttered marketplace. Here is how we took an emerging resources business from zero to hero in 60 days….
The Brief
Gateway Parts dismantles mining equipment – trucks, dozers, excavators and so on – and then refurbishes and sells those parts. A refurbished part is valuable in two ways – it is often significantly cheaper than new, and secondly it may be that a new part is not available. In the resources industry there is a huge cost in downtime for equipment and people not working.
The business was about to launch and wanted to sell the parts online, and engaged Emergination to develop and execute the digital strategy.
Two Critical Factors – Ease of Navigation & SEO
The first step was to understand the target audience – in resources time is truly money – and particularly where expensive machinery isn't working. So those people needing parts need them quickly and there was really once chance to get them to trial the site. Poor navigation would mean that chance potentially lost forever.
The second factor was search – many of the competitors had been established for over 10 years (and some many years longer). That meant that with a domain age (which contributes to page rank), we'd have our work cut out for us in getting the results we wanted.
The Design
The design provides an easy means to navigate into the catalogues within the site. This required a lot of thinking around how people navigate such as by part number, by brand name, by vehicle model and so on.
The Big Result in Search
Over 1150 pages have been indexed in Google. This required a very structured approach to naming conventions for the catalogues, the parts contained within them, and the associated images. In many cases Gateway Parts now holds the first 3 places for the product names in their catalogue in worldwide search, and the top 5 for the same search in Australia. The below screenshot shows the first 8. Results like these are achievable from the outset if you begin with the end in mind.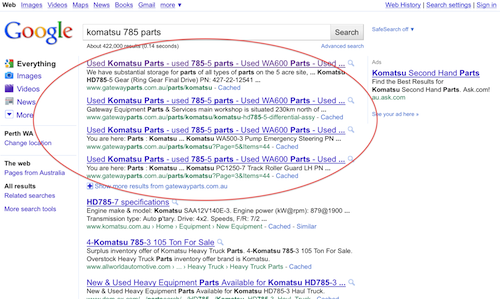 Tags:
digital strategy